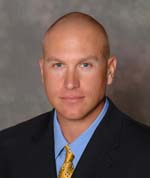 Assistant Baseball Coach
Email: bsteele@tusculum.edu
Campus Phone: Ext. 5615
Campus Mail: P.O. Box 5055
Office: Rankin Hall
Department: Athletics
Campus or Site Location: Greeneville

---
Brandon Steele is the Tusculum coaching staff and recruiting coordinator. Coach Steele works with the infielders and hitters.
Steele, a native of London, Ontario, Canada, came to the Greeneville campus after serving as an assistant coach at Macomb Community College in Warren, Mich. and Roseville High School in 2003.
Steele's coaching experience also extends to summer baseball. He served as the associate head coach for the Wisconsin Woodchucks of the prestigious Northwoods League in 2007 and 2008. Steele's 2008 squad set numerous league and franchise records including tying the franchise mark for wins with 41. His 2008 Woodchucks also made their first playoff appearance since 2003. For his efforts, Steele was named the Northwoods League "Coach of The Year" in 2008.  He was promoted to head coach of the Woodchucks in 2009.
During the summers of 2005 and 2006 Steele served as manager of the Medicine Hat Mavericks. During his two seasons with the Mavericks, Steele's teams rewrote the league's offensive record books while reaching the playoffs both seasons.
In 2004 Steele was the Assistant Field manager of the London Majors of the Intercounty Baseball League. While with London, Steele helped lead the Majors to the league championship for the first time in 25 years. Steele also has previous coaching experience with the Novi Expos in Novi, Michigan, and the University of Western Ontario in London.
His previous playing experience includes time with the London Majors of the Semi-Pro Intercounty Baseball League from 1997-2003. For his 2001 performance, Steele was named a First Team All-Star. That season he batted .387 with 12 doubles, four home runs and 25 RBI. In college, he played at Macomb Community College where he hit .385 as a freshman and .340 as a sophomore.
He has served on the baseball camp staffs at Tennessee, Kentucky, and Eastern Michigan. He is also a member of the American Baseball Coaches Association.
Steele is married to the former Mary Kay Benson of Monroe, Mich., the couple have a dog named Roxy.