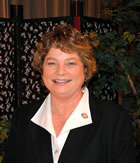 Executive Assistant for the Office of Institutional Advancement
Email: bsell@tusculum.edu
Campus Phone: Ext. 5303
Campus Mail: P.O. Box 5040
Office: Annie Hogan Byrd
Department: Institutional Advancement
Campus or Site Location: Greeneville

---
Ms. Barbara Sell, Greeneville native, was named executive assistant for Institutional Advancement at Tusculum College in May 2008. Prior to this position, Sell worked as the executive assistant to the Vice President for Finance and Chief Executive Officer, as well as the switchboard operator.
As executive assistant, Sell provides direct support to the vice president for Institutional Advancement, as well as the Institutional Advancement staff.  She also provides backup support for the associate director of advancement services, manages the department's operational budget and oversees arrangements for the annual President's Dinner, the College's signature event of the year that pays tribute to major donors.
Prior to working at Tusculum College, Sell was co-owner of Bunns on the Runn restaurant in Greeneville and was also an assistant manager of ACE Hardware, Greeneville.
Sell has two children, Jake, who attends Greeneville High School, and Tori, a Tusculum College student. She is secretary for the Greeneville High School Football Boosters Club.
Sell has a Bachelor of Arts degree in mass communications and broadcast productions with a minor in office management from East Tennessee State University.
In Sell's spare time, she enjoys cheering on the GHS and Tusculum College football teams, bowling and spending time with her family and friends.