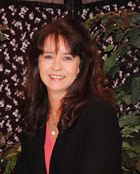 Manager of Communications
Email: srichey@tusculum.edu
Campus Phone: Ext. 5230
Campus Mail: P.O. Box 5051
Office: Virginia Hall G15
Department: Enrollment Management
Campus or Site Location: Greeneville

---
Suzanne S. Richey joined Tusculum in November 2008, originally in the Office of Institutional Advancement. Richey has more than 20 years of diversified experience in the field of communications, including previous positions with The Greeneville Sun, the Greene County Partnership and Ferguson Development Network.
During her career, she has demonstrated accomplishments in all aspects of communication, including writing, editing, organizing and disseminating information and has extensive experience in implementing and managing not-for-profit programs.
Richey is responsible for the overall communications strategy for Tusculum College and interacts closely with college leadership. Richey works to create and protect the public presence for  Tusculum through campus-wide communication, marketing and branding efforts, managing media relations, overseeing the Tusculum's social media presence and exploring, developing and implementing innovative communication approaches. She also serves as spokesperson for the College and as a liaison for campus public affairs and media relations.
Richey is a graduate of the University of Tennessee with a major in Journalism and a minor in English. She is currently enrolled in the Master of Education, organizational training and education program at Tusculum College.
She and her family live in Greeneville. She has two daughters: Lane and Emily. Her parents are Tusculum College alumni, Howard and Mary Jo Slagle ( '61 '60) who reside in Greeneville.