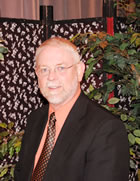 Director of Music Programs
Email: daprice@tusculum.edu
Campus Phone: Ext. 5258
Campus Mail: P.O. Box 5042
Office: McCormick Hall 301
Department: Student Success
Campus or Site Location: Greeneville

---
David A. Price was named director of special events for Tusculum and music director for the Pioneer music program in July 2010. Price spent the previous seven years as director of the Greeneville High School band.
In his role as music director, Price handles all aspects of the band from recruitment, direction, supervision and organization. He oversees practice schedules and organized performances as well. He has been responsible for developing the current music program to include a Marching Band, Concert Band, Jazz Band, Handbell Choir and several small ensemble groups.
Price has been highly decorated throughout his career as an educator, receiving the Greeneville Middle School Teacher of the Year Award and the Greeneville City Schools Teacher of the Year Award twice, in 1988 and 1995. He received the Tennessee School Board Association Award of Excellence for the Greeneville Middle School Program in 1985 and was named Tennessee Education Association Distinguished Classroom Teacher in 1987.
Price has a Bachelor of Science in music education from East Tennessee State University and through his career has participated in numerous instrumental and vocal music clinics and technology workshops.
He is a member of the Niswonger Performing Arts Center Board of Directors as a representative of Tusculum College. Previously he has been the director for Kiwanis Kapers, Little Theatre of Greeneville and the Community Handbell Choirs.