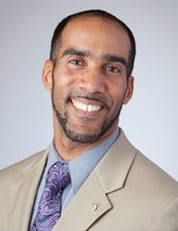 Head Coach, Men's and Women's Track and Field
Email: lnau@tusculum.edu
Campus Phone: Ext. 5462
Campus Mail: P.O. Box 5087
Office: Rankin 208
Department: Athletics
Campus or Site Location: Greeneville

---
Lionel Nau has been named the head coach of the Tusculum College men's and women's track & field program announced TC Director of Athletics Doug Jones.
Nau (pronounced "no") comes to Tusculum from South Atlantic Conference member Queens University of Charlotte, where he served as an assistant coach with the Royals for the last three years.  During that time, he helped the Royals capture five SAC Track and Field championships (2 men, 3 women) while mentoring over 100 combined All-Conference honorees, including 16 conference champions in the sprints and hurdles.
"The committee spent a great deal of time on this search as we realized the importance of finding the right person to start our track and field program from the ground up," said Jones.  "The search provided us with several quality candidates, but we felt that Lionel had the experience, both as a competitor and a coach, which we were looking for.  Lionel has been associated with quality programs who have produced a lot of success and we believe that will greatly benefit our program."
Nau also coached over 50 All-Region athletes including two-time SAC and USTFCCCA Region Track Female Athlete of the Year Nikia Squire.  Squire was also tabbed the 2015 SAC Field Athlete of the Year. On the men's side, Yannick Stubbe and Elijah Inuwa were named the SAC Track Athletes of the Year and SAC Freshmen of the Year in 2015 and 2016, respectively, while Khyle Higgs was the 2016 Field Athlete of the Year.
While at Queens, he helped expand the track and field teams from 20 members to over 70 student-athletes.