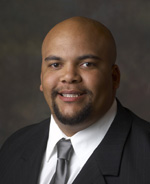 Assistant Athletic Director
Email: rloggins@tusculum.edu
Campus Phone: Ext. 5292
Campus Mail: P.O. Box 5090
Office: Rankin Hall 109
Department: Athletics
Campus or Site Location: Greeneville

---
Randy Loggins is the as Assistant Athletic Director at Tusculum College.
Loggins, a 2006 Tusculum graduate, serves as the business manager for the athletic department, overseeing the budgets for all 14 sponsored sports. He assists with NCAA compliance, game-day operations, promotions and football season ticket sales.
Loggins came to the Greeneville campus in 2003 as a member of the Pioneer football team. The Stockton, Calif. native lettered two seasons on the offensive line, including during TC's South Atlantic Conference Championship campaign in 2003. The Pioneers posted a combined 15-6 record during his two TC seasons.
In 2005, he served as a student assistant football coach, where he assisted with the defensive backs.
Loggins serves on several campus committees, including the College's Quality Enhancement Plan, Community Standards Board and will begin his first term serving on the NCAA Division II Regional Baseball Committee.
He has worked with the Greeneville Astros minor league baseball team for three seasons (2006-08) years and will be in his third year as a TSSAA football official this fall.
Loggins is married to the former Brook Miller of Richmond, Ky. Brook is a 2003 graduate of Tusculum who starred on the Pioneer women's tennis team. Randy and Brook are the proud parents of one daughter, Kamara Grace, who was born August, 2008