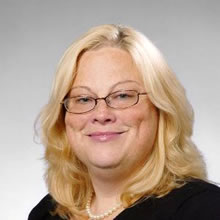 Acting Dean of the School of Business & Technology
Assistant Vice President for Academic Affairs
Email: jlobertini@tusculum.edu
Campus Phone: Ext. 5008
Campus Mail: P.O. Box 5008
Office: Knoxville Regional Center
Department: Academic Affairs
Campus or Site Location: Knoxville

---
Dr. Jo Alison Lobertini is acting dean of the School of Business & Technology, assistant vice president of Academic Affairs and assistant professor of literature at Tusculum College.
As assistant vice president for academic affairs, Dr. Lobertini is responsible for the oversight of the operations of the Graduate and Professional Studies program, including delivery of instruction and support services and facilities at all off-site locations. She works collaboratively with the vice president of enrollment management and marketing to assure GPS programs are fully enrolled and aggressively marketed.
Additionally, she will ensure compliance with the Principles of Accreditation of the Southern Association of Colleges and Schools Commission on Colleges and with other accrediting agencies and is responsible for developing and maintaining, while assuring accuracy of all administrative publications and policy documents for the GPS program.
She has Doctorate of Education, in postsecondary and private sector leadership from East Tennessee State University, a Master of Arts in English from ETSU and a Bachelor of Arts in history from the University of Tennessee.
Dr. Lobertini has served on the Advisory Board for the Unicoi County/Erwin Head Start and for the County Crisis Center. She has also served as a recruiter, mentor and facilitator for the Tennessee Scholars Program and as a mentor and speaker for the Chamber of Commerce Youth Leadership Program.
A native of LaFollette, Tennessee, Dr. Lobertini is married to Paul Mareth and has two children, Leland Davidson and Emily Davidson.