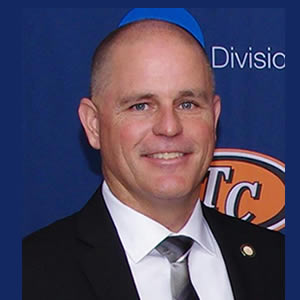 Vice President of Student Success/Director of Athletics / Head Baseball Coach
Email: djones@tusculum.edu
Campus Phone: Ext. 5322
Campus Mail: P.O. Box 5055
Office: Rankin Hall
Department: Student Success/Athletics
Campus or Site Location: Greeneville

---
Doug Jones is the head coach at Tusculum College and is the winningest coach in the history of the program. Jones has guided Tusculum to 11 consecutive winning seasons, while posting a school record 467 victories in his 14 campaigns in Greeneville.
He has directed the program into one of its most successful and exciting periods. His last nine teams have posted 30-win campaigns, including four of the last seven that have eclipsed the 40-win plateau.  The best year during that run was a 50-14 campaign in 2007.  In its last seven seasons, TC is an amazing 274-114-1 (.706), including four South Atlantic Conference Championships, two SAC Tournament titles and five trips to the NCAA Division II Tournament.
Tusculum's 50 wins in 2007 are still a school and conference record, including an amazing 23-game winning streak, both TC and SAC bests. TC finished the year ranked No. 10 in the NCAA II and was one of only seven programs in the country with 50 victories. For his efforts, he was named SAC Coach of the Year and has led the Pioneers to five NCAA postseason appearances in the last nine years.  The five trips to the NCAA Tournament are tied for the most by any school in the history of the South Atlantic Conference.
He has mentored 58 All-South Atlantic Conference honorees at Tusculum, including four SAC Players of the Year (Shane Banks – 2001; Guy O'Connell – 2003; Maikol Gonzalez – 2007; Jared Richmond – 2010) and three SAC Pitchers of the Year (Brent Gabel – 2005; Kevin Hammons – 2007; C.J. Hillyer – 2009).
In 2009, Tusculum won its first 13 league contests, en route to posting an 18-4 SAC mark and winning the league crown for the fourth time in five years. The 18 league wins tied a school record for most conference wins in a season.  For his efforts, he was named the SAC Coach of the Year for the second time in his career.
Jones achieved a personal milestone in 2009, recording his 400th career win. Win No. 400 came against Lenoir-Rhyne University on Apr. 17, 2009 in a 7-0 victory over Bears.
In 2008, he led the Pioneers to a 41-15 campaign and earned Tusculum's fourth NCAA postseason trip by winning the SAC Tournament crown. Seven TC players earned All-SAC recognition, including six that later garnered All-South Region accolades, the most of any school in the region. Of that group, Maikol Gonzalez was named the Daktronics South Region Player of the Year for a second straight season. Gonzalez also led the nation with his school record .468 batting average.
The 2007 squad finished third in the NCAA South Regional going 2-2, with one of its setbacks coming at the hands of eventual national champion Tampa. TC broke or tied 45 team and individual records, including seven SAC records. Tusculum was declared the NCAA II National Statistical Champion for triples per game, posting a TC and SAC best 41 triples in 2007. Gonzalez was also named a national statistical champion, leading the country with his 14 triples, two shy of the all-time NCAA II mark.
In 2005, Jones guided the Pioneers to a 44-17 record, while capturing both the South Atlantic Conference Championship and SAC Tournament titles. The Pioneers became the first team in league history to lose its opening tournament game and win the next six to claim the SAC Tournament crown. He also led Tusculum to its second NCAA postseason berth in three years.
The Pioneers defeated No. 9 Tampa 2-1 in the opening round before falling to eventual national champion Florida Southern. Tusculum ended the year ranked No. 13 in NCAA Division II, led by SAC Pitcher of the Year and All-American Brent Gabel.
In 2006, the Pioneers recorded its second consecutive 40-win season, posting a 40-14-1 worksheet, marking the first time in school history that a team tallied back-to-back 40-win campaigns. TC also claimed a share of its second straight SAC Championship, tallying a school record 17-4 league mark.
Tusculum finished second in the league in 2004. TC led the SAC in hitting for a second straight year and was also rated the top defensive unit in the league with a school record .964 fielding percentage, which was 17th in NCAA Division II.
In 2003, Jones led the Pioneers to their first-ever NCAA Tournament appearance. TC's 34-21 ledger tied a school record for most victories in a season at the time. That team rallied from a 1-5 start in the SAC to win 10 of its last 13 league games to tie for fourth place. Jones' club advanced to the championship game of the SAC Tournament for the first time ever, winning four straight games out of the elimination bracket including three 9-inning games in one day. That squad established 46 individual and team records, including a .342 team batting average establishing a new school and conference single-season record.
He led the Pioneers to a 29-24 record in 2002 for the team's second straight 29-win season. In 2001, TC's 29-24 mark was a nine-win improvement from a season before.
The 2002 club finished tied for fourth place in the conference and advanced to the SAC Tournament semifinal for a second consecutive season. For a second straight year, TC was the best defensive team in the conference and 12th in NCAA Division II. TC's 1.04 double plays per game average was fourth in the nation.
The 2001 squad set several school records and made quite a turnaround defensively. In 2000, TC was the worst fielding squad in the conference. But one year later, the Pioneers emerged as the top defensive team in the league and 14th in the country.
In his first season in Greeneville, Jones led the Pioneers to a 29-17 record and captured the Southeast Sub-Region Championship in Tusculum's final year of dual membership in the NCAA and NAIA.
Jones recorded his first victory as a collegiate head coach on Feb. 7, 1998 when the Pioneers defeated Pfeiffer University, 7-5. He would have to wait five seasons to break the century mark as Jones tallied his 100th victory on Feb. 15, 2002 in a 5-3 road win at North Greenville. On Apr. 3, 2004, Jones posted his 185th victory, making him the winningest coach in school history, surpassing the previous best of 184, set by former TC skipper Tom Griffin (1990-97). Three years and two days after his 100th win, Jones posted No. 200 in a 13-3 victory at Pfeiffer on Feb. 17, 2005. He wouldn't have to wait long for his next milestone as No. 300 came at Carson-Newman in a 5-4 extra inning victory.
Jones has mentored eight All-Americans, 19 All-Region honorees and 58 All-SAC players, four SAC Players of the Year, two SAC Freshmen of the Year (Brian Lovett in 2003 and Mat Galens in 2004) and three SAC Pitchers of the Year. O'Connell was also named SAC Male Athlete of the Year in 2002-03, earned ABCA First Team All-American honors and was the NCAA II South Region Player of the Year. Thirty-eight (39) Pioneers have also garnered SAC All-Tournament distinction during his watch, including Tournament MVP's Adam Beacham (2005) and Gonzalez (2008).
Since 2004, 20 Pioneers have or are still playing professionally. All-Region shortstop Robbie Bouman signed with the Tampa Bay Rays in 2004. In 2005, All-SAC pitcher Eric Butler signed with the Arizona Diamondbacks. In 2006, four Tusculum players signed professional contracts, including pitcher Brandon Dickson (St. Louis Cardinals), catcher Adam Beacham (Kansas City Royals), All-American pitcher Brent Gabel (Washington Wild Things) and Bobby Darling (Rockford RiverHawks). Two members of the 2007 club signed professional contracts, including Kevin Hammons, who was drafted in the 24th round by the Florida Marlins, while Ben Swaggerty signed as a free agent with the Kansas City Royals and is currently in the Atlanta Braves organization. In 2008, All-Americans Maikol Gonzalez (Colorado Rockies), Christian Rosa (St. Louis Cardinals) and Carlos Rivera (Rockford RiverHawks) signed professionally, including Gonzalez who was drafted in the 35th round by the Rockies.  In 2009, All-American pitcher Rob Currie was drafted in 12th round by the Milwaukee Brewers, while pitcher Tio McLean inked as a free agent with the Houston Astros.  All-Region Raymond Ruggles was picked in the 43rd round by the San Francisco Giants.  This past season, All-American catcher Sean Cotten was drafted in the 29th round by the Washington Nationals.
Jones has stressed academics with his teams as his squads boast one of the best team grade point averages in the conference. Six of his players have been named SAC Scholar Athlete of the Year (Shane Banks in 2001, Mike Calano in 2003, Josh Wolff in 2005, Kevin Hammons in 2007, Dustin Morrow in 2008, Payden Houser in 2009), including Mike Calano who became the first player in the program's history to be selected to the CoSIDA Academic All-America® team in 2003. Ten of his players have also garnered CoSIDA Academic All-District IV recognition.
He has been the recipient of the Art Argauer Award three times (1999, 2005, 2007), recognizing the Tusculum Coach of the Year, as by his coaching peers at the College.
Prior to coming to Tusculum, Jones spent four years as an assistant coach at his alma mater where he was responsible for recruiting, infield play and hitting for the Runnin' Bulldogs. As an assistant at the Boiling Springs, N.C. school, GWU posted a 104-100 record.
At GWU, he was a four-year letterman as a middle infielder and set a then South Atlantic Conference record with eight runs batted in a single contest (1991 vs. Wofford). He also earned SAC All-Academic honors as a player at Gardner-Webb. He holds a Bachelor's degree in Administrative Management as well as a Master's degree in Physical Education from GWU in 1995.
A native of Norfolk, Va., Jones grew up in a baseball-oriented atmosphere with his father, Bob Jones, coaching for over 20 years in the Norfolk area. His older brother, Robbie Jones has logged coaching experience at Emmanuel College in Franklin Springs, Ga.
Coach Jones graduated from Ryan Academy in Norfolk where he was Player of the Year as a senior and a four-time All-Conference and All-State performer.
He is very active nationally in the coaching profession, serving on the NCAA II Baseball Championship selection committee and is a member of the American Baseball Coaches' Association (ABCA).
He is married to the former Dawn Roshto of Norfolk, Va., and they are the proud parents of two daughters; Katlyn, 11 and Allison, 6.