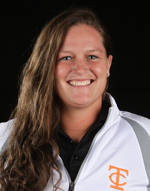 Head Women's Lacrosse Coach
Email: jhandshoe@tusculum.edu
Campus Phone: Ext. 5443
Campus Mail: P.O. Box 5182
Office: Rankin
Department: Athletics
Campus or Site Location: Greeneville

---
Jenna Handshoe completed her first season as head coach of the Tusculum College women's lacrosse program after being named the program's first coach in October 2013.  Women's lacrosse become the school's 16th varsity sport and began competition in the spring of 2015.
Handshoe was named the 2015 SAC coach of the year after leading TC to a third place finish in the conference in its inaugural campaign. The Pioneers finished the season with a 10-5 overall record and a 5-3 mark in the league, which earned the right to host a 2015 SAC Tournament quarterfinal game. Throughout the season, the Pioneers defeated established conference opponents Wingate, Newberry and Catawba. Tusculum also picked up wins over fellow first-year program Lincoln Memorial and earned road wins at non-conference foes Converse and Shorter.
Handshoe guided the 23rd-ranked scoring offense in DII with an average of 13.67 goals per game. Overall, the Pioneers ranked in the top 25 in four different national categories including seventh in ground balls per game (24.80) and 24th in win percentage (0.692). Tusculum finished with the best record among all first year DII women's lacrosse programs in 2015. The Pioneers were the only one of seven teams to finish with an above a .500 winning percentage.
Under Handshoe's direction, four Pioneers earned All-SAC honors including  first-team selection Kelsey Crow and second-team honoree Cheyenne Bray. Madison Malone and Brooke Wagner were honorable mention selections. In the classroom, 11 of Handshoe's players were named to the Athletic Director's Honor Roll in their first eligible season.
Handshoe came to Tusculum from Tennessee Wesleyan College, where she served as head coach for the two seasons. With the Bulldogs, Handshoe posted a 17-18 record and led TWC to two trips to the National Women's Lacrosse League tournament, where they finished fifth and fourth.
A native of Greenville, S.C. and a graduate of J.L. Mann High School, Handshoe was a four-year starter at NCAA Division I Presbyterian College from 2007 to 2010. With the Blue Hose, she was a second-team All-National Lacrosse Conference selection in 2010 and an all-tournament selection in 2009, while leading the team in scoring as both a junior and a senior.  She led PC in points (49), goals (36), free position goals (8), shots (70), and shots on goal (60) her senior year (2010). She also led in goals her junior season with 28, while also pacing the Blue Hoes in points (48) and assists (20). In 2008, the season was cut short, but Handshoe still scored 15 goals in the four games that were played. Handshoe was nationally ranked in NCAA II in 2007 for ground balls and caused turnovers. She was named to the Big South Conference Presidential Honor Roll and also played basketball for Presbyterian her freshman year.
In 2007, Handshoe played with USA Athletes International in Prague, Czech Republic in the Prague Cup International Lacrosse Tournament, helping the team to a second place overall finish.
In high school, Handshoe helped J.L. Mann to win the 2006 South Carolina State Championship. She was named the Tournament MVP and the South Carolina Defensive Player of the Year.
After earning a Bachelor of Arts degree in history with minors in physical education and athletic coaching in the spring of 2010, Handshoe was a volunteer assistant coach at Presbyterian for the 2011 season while officiating local high school games. Handshoe has also worked various lacrosse camps and clinics and held volunteer classes for the Athens City Middle School during the past academic year.
While at Tennessee Wesleyan, Handshoe served on the National Women's Lacrosse League Membership committee and was the Appalachian Athletic Conference chair for the Coaches committee.
Handshoe resides in Greeneville, Tennessee with her son Irish.