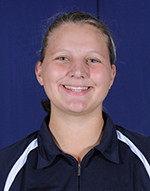 Assistant Women's Soccer Coach
Email: vfyffe@tusculum.edu
Campus Phone: Ext. 5654
Campus Mail: P.O. Box 5096
Office: IPF
Department: Athletics
Campus or Site Location: Greeneville

---
Former Pioneer goalkeeper Vanessa Fyffe is entering her second year on the coaching staff at Tusculum in 2014.  She will also be serving as the head junior varsity coach starting in 2014.
Fyffe returned to Tusculum in 2013 after three seasons as an assistant coach at Division III Moravian College in Bethlehem, Pa., where she worked with the Greyhound goalkeepers. She also assisted in practice planning, recruiting, fundraising and offseason workouts during her time at Moravian.
Fyffe, a native of Bellbrook, Ohio, is a 2010 graduate of Tusculum, earning a bachelor of arts degree in sport management with a minor in coaching. In her playing career, she played 22 games and compiled a 9-6-1 record with a 1.18 goals against average. Her career goals against average ranks as the seventh-best in program history.
As a junior Fyffe started 16 matches and finished with 61 saves and a 1.26 goals against average spanning 1,355 minutes of playing time. That year, Fyffe was in goal when the Pioneers upset seventh-ranked Columbus State by a 2-1 score in Greeneville. She was also a member of three Tusculum teams that appeared in the NCAA Division II Tournament and was a member of the South Atlantic Conference Commissioner Honor Roll and Tusculum Athletic Director's Honor Roll.
Fyffe has also gained valuable coaching experience through her work with the Joy of Soccer Camp held each summer at Tusculum, along with the Mommy and Me Soccer Program for youth in the Bethlehem area. Fyffe has also been involved with Play for the Cure to raise money for the Susan G. Komen Foundation.
She is a FIFA-certified referee and has regional and state goaltending diplomas from the National Soccer Coaches Association of America. Fyffe earned her Masters of business administration degree from Moravian in December.