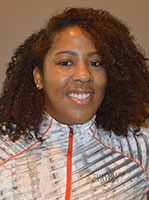 Assistant Women's Basketball Coach
Email: lcomfort@tusculum.edu
Campus Phone: Ext. 5672
Campus Mail: P.O. Box 5072
Office: Rankin Hall 303
Department: Athletics
Campus or Site Location: Greeneville

---
Lady Comfort was named to the Tusculum coaching staff in summer 2017.
Comfort comes to Tusculum after spending the past two seasons as assistant coach at Northwest Florida State College, where she helped the Raiders compile a 47-22 record and an appearance in the National Junior College Athletic Association tournament in 2016. During her tenure, Comfort helped develop post players Britney Snowden and Nasheema Oliver into NCAA Division I recruits while assisting with recruiting, scouting and individual skill development.
Comfort, a native of Pensacola, Florida, is a 2008 graduate of Temple University where she helped the Owls to three Big Five championships and three appearances in the NCAA Tournament under head coach Dawn Staley, who led South Carolina to the 2017 NCAA title. She is the program's career leader in field-goal percentage at 52.8 percent (400-for-758) and ranks 25th on the Temple career scoring list with 1,007 points, eighth in rebounds with 771 and seventh in blocked shots with 115. Comfort led the Owls in field-goal percentage three straight seasons, and paced the team in blocks in both 2006-07 and 2007-08.
Comfort was named second-team All-Atlantic 10 in both 2006-07 and 2007-08, and was selected to the A-10 All-Tournament team in 2008 as the Owls won a share of the conference regular-season championship. Comfort was also named first-team All-Big Five in both 2006-07 and 2007-08, and was named Most Improved Player by both the Atlantic 10 and the Big Five during the 2006-07 season.
After her college career ended, Comfort signed a rookie contract with the Los Angeles Sparks of the WNBA to start a pro career that led to stops in Serbia (2008), France (2009-11), Portugal (2012) and Spain (2012-15). While playing in Europe, Comfort earned Rebounder of the Year honors in both France (2010) and Spain (2014) while earning MVP honors in the 2013 Tournament of the Americas in Ecuador.
Beyond the court, Comfort has worked closely with the Southern Youth Sports Foundation girls basketball program based out of Pensacola. She has also hosted her own skills building camp, the Comfort Zone Training Academy.
Comfort graduated from Temple in 2008 with a bachelor's degree in communications.