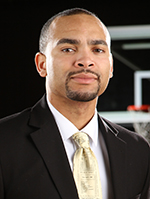 Head Women's Basketball Coach
Associate Men's Basketball Coach
Email: dcarter@tusculum.edu
Campus Phone: Ext. 5644
Campus Mail: P.O. Box 5075
Office: Rankin 104
Department: Athletics
Campus or Site Location: Greeneville

---
Devan Carter was named the head coach of the Tusculum women's basketball program on Feb. 27, 2016 after serving most of the 2015-16 season as the interim coach.
Carter is also in his third season as associate head coach of the Tusculum men's basketball program, a position he will also continue to serve during the 2015-2016 campaign.
As associate head coach of the men's team, Carter serves as the program's recruiting coordinator, director of skill development and coordinates Tusculum's summer basketball camps.
Prior to his arrival at Tusculum, Carter served two seasons at Hargrave Military Academy as an assistant coach.  While at the Chatham, Virginia prep school, he worked to enhance the individual development of guards and post players.  He served as the program's operations specialist and handled the recruiting data base, film coordination and maintained the team's web site.  Carter supervised players' campus activities and facilitated and organized community service projects.
While on the coaching staff at Hargrave Military Academy, he assisted in the recruitment and coaching of several collegiate players including: Montreazl Harrell (Louisville), Codi Miller-McIntyre (Wake Forest), Corey Heyward (Georgia Tech), Charles Buggs (Minnesota), Terry Rozier (Louisville), Anton Gill (Louisville), Greg McClinton (Wake Forest), Neville Fincher (Kansas State), and Donte Clark (Massachusetts).
Carter, a native of Cascade, Virginia, was a four-year letterman and three-year starter at NCAA Division I Elon University.  He was instrumental to the major turnaround in the Elon basketball program starting in the Southern Conference championship game against nationally ranked Davidson College in Elon's first nationally televised game on ESPN.
He played one season at Hargrave Military Academy prior to Elon during the 2005-06 season.  He was a McDonald's All-American nominee at Morehead High School in Eden, North Carolina and played in the prestigious North Carolina East-West All-Star Game.  He was named to the Greensboro News and Record All-Area first team and the All-Northwest Region team as a senior.  He also garnered All-Conference accolades three times and was a two-time team MVP, establishing the Morehead High School single-game scoring record with 48 points.
Following Elon, he briefly played professionally in Europe, touring Ireland, Finland and the United Kingdom.
He earned his Bachelor of Arts degree in political science from Elon in 2010.  He was the 2010 recipient of the Phillips Excellence Award for Academics and the Dewey Andrews Scholarship, both from Elon.