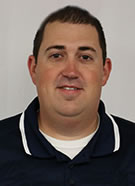 Head Men's and Women's Golf Coach
Email: abuie@tusculum.edu
Campus Phone: Ext. 5221
Campus Mail: P.O. Box 2079
Office: Rankin 206
Department: Athletics
Campus or Site Location: Greeneville

---
Adam Buie was named the head coach of the Tusculum men's and women's golf programs on June 8, 2017.
Buie boasts extensive collegiate coaching experience, including stops at UNC Pembroke, West Alabama and Lyon College.
He comes to Tusculum after serving the 2016-17 academic year as the head coach at Lyon College in Batesville, Arkansas.  The Fighting Scots men's team captured a tournament title at the College's spring event.  LC also posted third place honors at the Cumberland University Phoenix Invitational.  Both of his teams posted high team grade point averages as five of his golfers earned American Midwest Conference Scholar Athlete distinction, including Katherine Bartley who earned NAIA Daktronics Scholar Athlete recognition.
From 2012-2016, Buie served as the head coach at West Alabama.  While at the Livingston, Alabama school, he coached the Tigers for three seasons.  His women's teams won three tournament titles while two of his student-athletes earned medalist honors.  During his tenure at UWA, the Tigers showed marked improvement each season for both the men's and women's programs.
Five of his West Alabama players earned All-Gulf South Conference honors, while four garnered GSC All-Tournament accolades.  In 2014, UWA's Tori Smith was named the GSC Freshman of the Year.
His UWA teams also shined off the golf course where six of his players earned All-America Scholar-Athlete accolades while six were named to the All-GSC Academic Team and 23 were Academic Honor Roll members.
Buie served on the coaching staff at UNC Pembroke from 2011-2012 where he helped guide the Braves to 11 women's team tournament wins and six men's tournament titles. Of this 11 women's titles, one included the 2011 Peach Belt Conference championship as well as the 2011 Tusculum Fall Classic held at Link Hills Country Club.
The 2012 UNCP men's team won the Peach Belt Conference title and advanced to the NCAA II Tournament where the Braves finished 10th.  In 2012, Meghan Moore garnered runner-up honors at the NCAAs. During his tenure at the Pembroke, North Carolina school, Buie mentored 13 All-Peach Belt Conference selections, five All-Americans and four All-American Scholar Athletes during his tenure at UNCP.  Twenty-six (26) UNCP players were also named to the Peach Belt Honor Roll.
He earned his undergraduate degree from North Carolina State University in 2009 while majoring in sport management.  He earned his Master's degree in sport administration from UNC Pembroke in 2012.
Buie played his collegiate golf at Lees-McRae College and Montreat College. He also served as the assistant golf professional at Uwharrie Golf Club in Asheboro, North Carolina.  He holds the course record at the par-71 Asheboro Country Club with a round of 64.