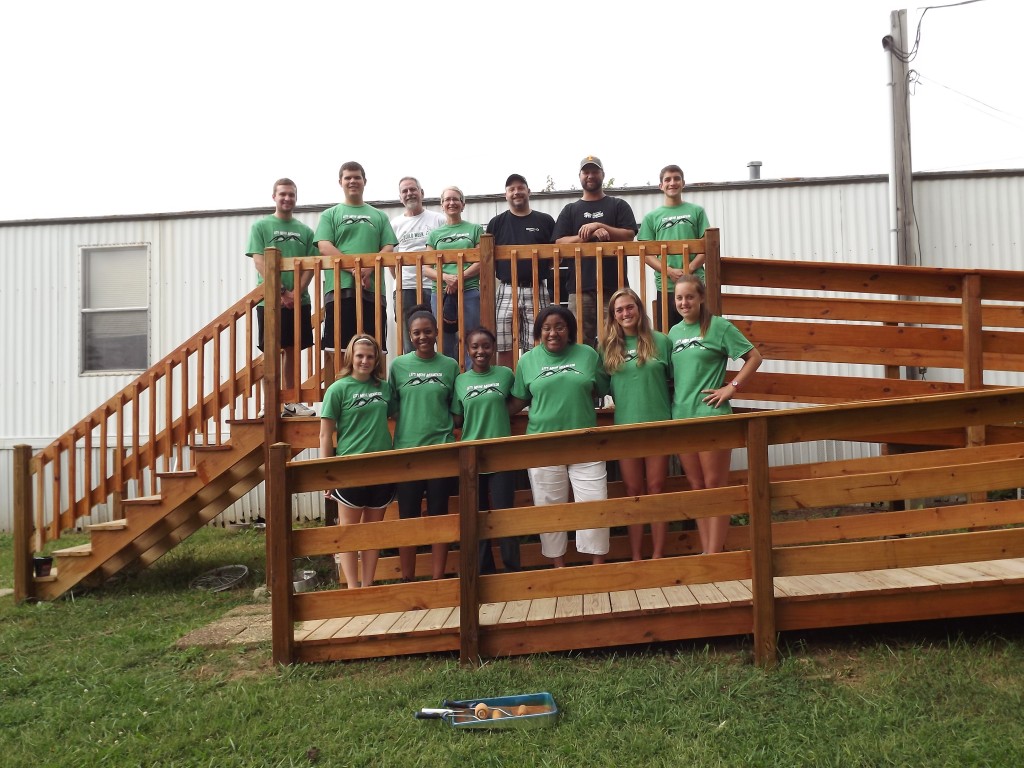 Tusculum has developed partnerships with several agencies in the region. These partnerships enrich the Tusculum community.  We encourage faculty to explore the rich and varied opportunities offered within these partnerships for developing the qualities of citizenship we seek in our students. If this is more than an individual volunteer effort, or if you would like the CCA to set up a volunteer effort with any of the following please contact Ronda Gentry or Jonathan Calloway.
Formal Partnerships
Tusculum College has formalized partnerships with the organizations listed below. This represents a commitment to an ongoing relationship yielding reciprocal benefits. These agencies are knowledgeable about the college and our mission and interested in working with our students.
A Safe Harbor Home, Inc
112 Austin Street
Greeneville, TN 37743
Phone: 423-218-0774 (Lily Gonzalez)
A Safe Harbor Home, Inc. is a non-profit organization providing transitional shelter for women & their children victimized by Domestic Violence. A Safe Harbor Home, Inc. is committed to equip the victims of Domestic Violence with the necessary tools to empower their lives. They believe that no one should have to live in fear or in a violent environment with their loved ones. We all have the right to become everything God wants us to be. Volunteers are needed to help in the store or with the Katie Key Project, a mentoring project with area high schools.
Boys and Girls Club of Greeneville & Greene County
740 W. Church Street
Greeneville, TN 37745
Phone: 423-787-9334/423-787-9322 (Scott Bullington/Cathy Osborne)
Work with children in after-school program. Teach sports, crafts, supervise or mentor. Find sponsors and help plan and carry out monthly birthday parties at the Club.
Greeneville City Schools
Greene County Schools
All schools partner with Tusculum to develop projects to benefit their students. These may take many forms… use your creativity! This position could help students with Science Fair projects, read with students, tutor for the ACT, help with writing assignments, or mentor a student. A student could develop resource web pages with links and information on history (local and non-local), geography, or cultural topics such as Native Americans, other countries, etc.
Greene County Habitat for Humanity
2460 W Andrew Johnson Hwy
Greeneville, TN 37743
Phone: 423-638-1338 (Vicki Culbertson)
Help with housing construction for low-income families, fundraisers, newsletters, resale store, and education..
Greeneville-Greene County Humane Society
950 Hal Henard Rd.
Greeneville, TN 37744
Phone: 423-639-4771 (Amy Bowman)
Exercise and socialize animals at the shelter to help prepare them for adoption. Help with humane education in schools and civic organizations. Help with fundraising. Write articles for newsletter. Prepare video for use with civic organizations. Hours: 11-5:00 Mon-Sat.
Plaza Tower Apartments
224 Thornwood Drive
Greeneville, TN 37745
Phone: 423-787-7840 (Alicin)
This is a rent-subsidized residential apartment building serving senior citizens. Help organize and present programs such as crafts, storytelling, music, drama and poetry. Play pool, chess, bingo, etc. with residents. Help them with computer skills, including e-mail.
Rural Resources
2870 Holly Creek Road
Greeneville, TN 37745
Phone: 423-636-8171 (Sally Causey)
Rural Resources is committed to connecting food, farms and families in Greene County and the surrounding area. Ongoing work includes educational projects designed to address specific needs and interests of local farmers, gardeners, and consumers of agricultural goods. Community-based programs are focused on sustainable agriculture education, development of new agriculture markets and land discussion initiatives that begin ongoing conversations about the land.
Second Harvest Food Bank of Northeast Tennessee
1020 Jericho Road
Kingsport, TN 37663
Phone: 423-279-0430
E-mail: volunteers@netfoodbank.org
America's Second Harvest is the United States' largest domestic hunger relief organization, with a network of over 200 food banks and food-rescue programs. The regional Food Bank serves 250 agencies in Carter, Greene, Hancock, Hawkins, Johnson, Sullivan, Unicoi and Washington counties. Their vision is that no one goes hungry because they do not have access to food. Help in the warehouse, possibly labeling cans; conduct a food drive; secure donors for the "Second Helpings" program that salvages prepared food; help find locations for food pantries.
Tabernacle Mission Soup Kitchen
Tabernacle Presbyterian Church
715 Wesley Avenue
Greeneville, TN 37743
Lunch is served every Wednesday between 11:30 and 2 for anyone who needs it. Help may be given cooking, serving, or possibly advertising the opportunity to the community.
Community Agencies
In addition to those agencies listed above, Tusculum students are working alongside agencies through either service projects or internships. These agencies are interested in continuing to work with Tusculum.
Andrew Johnson National Historical Site
101 N. College Street
Greeneville, TN 37743
Davy Crockett Birthplace State Park
1245 Davy Crockett Park Road
Limestone, TN 37681
Keep Green Beautiful
Greene County Partnership
Email: GCP@greenecop.com
Opportunity House
205 N. Irish Street
Greeneville, TN 37743
Random Acts of Flowers
1223 Snapps Ferry Road
Greeneville, TN 37745
United Way of Greene County, Inc
115 Academy Street
Greeneville, TN 37743