Contact: Robin E. Lay, Director of Career Services
Email: rlay@tusculum.edu
Phone: (423) 636-7447 (office)
About the Director of Career Services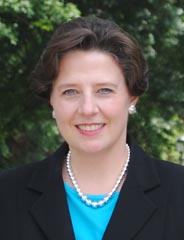 Robin E. Lay of Atlanta, Ga., has assumed the role of director of career services at Tusculum College.
Lay comes to Tusculum from Richmont Graduate University where she served as ad hoc career services representative since 2005. Prior experience also includes serving as academic advisor and as director of recruiting, also at Richmont Graduate University.
Lay has a Master of Arts in professional counseling from Richmont Graduate University and a bachelor's degree in psychology with a concentration in business administration from Carson-Newman College. She is a licensed professional counselor in Georgia and a member of the American Counseling Association. She is also a nationally certified counselor and a Georgia College Counseling Association member.
As Director of Career Services, Lay will be responsible for the development of student internship opportunities, working with employers and monitoring and advertising to students for testing dates for graduate schools, workshops and programs. In addition Lay will oversee the co-curricular transcript program and assist students in the exploration and development of future career plans, as well as with resume writing and interviewing skills.
CONTACT FORM
If you have questions about Career Services, please use the contact form below!