Contact: Robin E. Lay, Director of Career Services
Email: rlay@tusculum.edu 
Phone: (423) 636-7447 (office)
Location: #405 Niswonger Commons
---
ABOUT THE DIRECTOR OF CAREER SERVICES:
---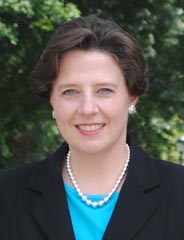 Ms. Robin Lay, Director of Career Services, came to Tusculum in June 2013 from Richmont Graduate University, where she served as the director of recruiting, in addition to providing academic and career advising for students and alumni, for seven years. Additionally, Ms. Lay worked in the mental health field in Georgia for several years as a Georgia Licensed Professional Counselor and site supervisor for graduate counseling interns at the Hope Counseling Centers of Richmont Graduate University.
Ms. Lay has a Master of Arts in Professional Counseling from Richmont Graduate University and Bachelor of Arts in Psychology, Concentration in Business Administration from Carson-Newman College. She is a member of the National, Southeastern and Tennessee Associations of Colleges and Employers.
As the Director of Career Services, Ms. Lay provides career workshops and individual meetings for the following services:  resume review, career assessment, career exploration, graduate school application, career fairs, and networking events, as well as, internship and job search assistance.  Additionally, she works with employers, faculty, and students to develop internship and job opportunities.
Ms. Lay provides career services for approximately 1800 students on all Tusculum campuses, as well as, providing services to many Tusculum alumni. Ms. Lay is known for her passion for helping students and alumni find their vocational path for success and develop career readiness skills.
---
Due to a heavy volume, appointments are recommended.
---
GREENEVILLE OFFICE HOURS:
(Monday-Friday: 9 AM – 5 PM, most weekdays)
(Drop-in Hour is 3-4 pm most weekdays)
KNOXVILLE OFFICE HOURS:
(Second & Fourth Tuesdays, monthly: 4 PM – 6 PM)
MORRISTOWN OFFICE HOURS:
(By Appointment Only)
---
The career services office is closed during regular school holidays and staff vacations.
This calendar can be viewed on the Tusculum website at HOLIDAY SCHEDULE 2019-2020.
---