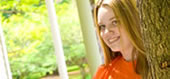 Something unexpected happens as Tusculum changes you, and you change Tusculum.
It's more than simply meeting new people, getting involved in new activities and obtaining a college degree.
You realize you can use what you've learned to make a difference. You realize you can leave the world better than you found it.
Get started at Tusculum College to focus and become the person you want to be.
If you and Tusculum College are the right fit, we'll try to make it happen for you.
Tusculum College is one of the lowest-cost private colleges in the country.
The cost of 2016-2017 tuition, room and board total $31,625.00. Financial Aid can reduce that figure significantly.
Approximately 97 percent of residential students receive some form of financial aid, based on need, academics, athletic merit, service and/or leadership.
Find out how to apply at http://www.tusculum.edu/faid or by calling 800-729-0256.
At Tusculum, accepted students are automatically considered for merit scholarships and grants.
To begin the application process:
Although you can apply any time, it's best to apply as soon as possible after January 1, if you wish to be considered for financial aid.
Requesting financial aid does not affect the admissions decisions.